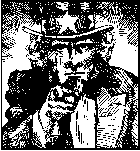 Want a more active role in SURVEY.NET?
WE CAN USE A FEW GOOD PEOPLE!
As a new service of SURVEY.NET, we're introducing an EDITORIAL section where we feature monthly columns from selected writers.

Along with each Survey, there will be at least one featured Columnist who can comment on the issues relating to the survey topic or current results. In some cases, we may have several columnists associated with a particular Survey topic (for example, in the Political Poll, we will probably have several columnists covering different political fields of thought).

We're looking for the best, brightest and responsible people who would like to write a regular (at least monthly) column online. At present, we cannot pay any money, but if you do a good job, you will get a lot of recognition, and possibly other perks. Columnists will (ideally) be recognized as leaders in their field and have some writing or byline experience.

Interested people should send E-Mail to us and include the following information:
Your name, location, and the Survey topic you're interested in having a byline under.
Some background information on yourself, including any references relevant to the Survey topic or writing experience.
If possible, some examples of your writing.
A brief overview of how you might approach writing a column
We're currently negotiating with some very prominent people in various fields who will host columns online - in addition, we welcome other writers and "everyday people" in order to have a well-rounded editorial section. You will be in great company!
If you're selected as a columnist, you'll be expected to regularly update your column - it probably won't involve any significant amount of time - perhaps once a month (or sooner if you're inclined). We will provide you with a unique ID and Password that will allow you to automatically update your web page any time through your browser while online! You won't even have to know HTML or web page layout - simply fill out a basic form (or cut-and-paste from a word processor) and hit "submit" and your new column is online instantly - and at any time you'll be able to go back and edit it.
Now is YOUR chance to add more than your two cents to SURVEY.NET. If you think you have a unique angle on events or social issues, contact us and we'll consider you as a columnist. We will also actively promote your presence associated with our site if you desire.